What could end my blogging silence after all these months? Just one incredible event. A national holiday which much of the country seems unaware of, and one which brings good taste and good cheer to any willing to accept a little something for free. That's right, today was 7/11. Yes indeedy. Free slurpees in honor of 7-11's 79th year. It doesn't take much to make my day does it?
Cally tested the waters early this morning, venturing out for this once a year summer holiday deal, but she came up short. Seeing no sign of little cups sitting around and not wanting to ask, she missed out. What was she thinking! I was at work and could be of little help when her slurpee 911 call came in. But it left me a bit distressed. What if they had ended the free-for-all on 7/11? After all we'd been waiting for this day all year. I was pumped, counting down the days. It's on our calendar for goodness sakes... So after work, Casey and I buckled up and headed a few blocks over (unfortunately Cally was at work by this time) and with fingers crossed, went hoping like crazy that the tradition continued. As Casey went in, I was a bit nervous; I watched three individuals exit the building with regular slurpees of various sizes, fearing they too had come for a delicious deal only to be disappointed into buying one. But within moments I could see Casey sipping her way through the store with a mini-cup in each hand, sauntering out without stopping at the register. Yes! That's what I was talking about! And beyond that, check out these little cups! Aren't they too much?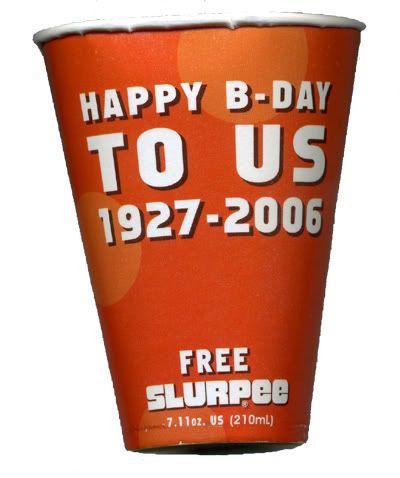 Clearly, the cup made the event even better than last year.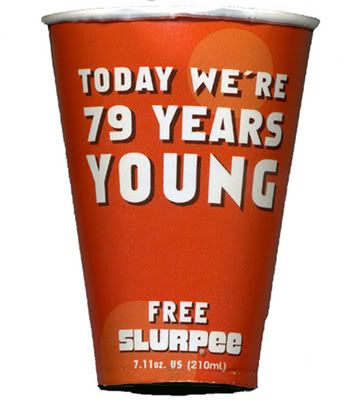 Just 7.11 oz in size, they were the perfect amount of free frozen goodness. (Cups shown appear larger than actual size). Just enough to drink without it melting on the way home. Until next 7/11 rolls around, we will continue our time-honored tradition of buying full-priced slurpees every time one of the kids do the lawn (at this point, that usually means Casey). As you can imagine, with the afternoon showers hitting during the summer, the grass is growing like crazy and the slurpee budget is out of control. Perhaps you understand now my overblown thrill over a free cup of the ice-cold brain-freezing slush. Gotta love it. And when the heck are they gonna bring back the orange slurpees? That was 7-11's finest hour creating that flavor. It brought back the memory of how as little kids we used to sneak Johnson and Johnson orange baby aspirin from the medicine cabinet in Mom and Dad's bathroom. 7-11's orange slurpee had a taste probably born of some other orange asprin-eating kid's fond childhood memory.
And no, my parents weren't totally neglectful...we were just sneaky.
Don't worry. We survived.
All I can say is...Oh thank heaven!